Content: HIV Vaccine R & D
Date: 26 October 2021. This event has now closed
Duration: (live session): 90 minutes
Structure: Pre-recorded material followed by a live interaction session. Pre-recorded content will provide some background and context and after reflecting upon it, participants will be required to submit 2-3 questions ahead of a structured live interactive discussion. More details of the specific themes of the discussion and facilitators will be provided.
Brief description: In preparation for the live webinar participants will be expected to have a basic understanding of the immunology underpinning current vaccination strategies in the context of what we have learned to date and the trajectory of the field in light of recent developments. The interactive webinar will cover (i) critical discussion of the vaccine pipeline (ii) immune correlates and strategies for the analysis of existing clinical samples (iii) challenges to the design and conduct of future trials.
Who should attend: Anyone interested in HIV vaccine R & D. Some knowledge of immunology will be assumed, but preparatory material should provide a high-level summary and some historical and scientific context. A refresher in more basic immunology can be found here
Objective(s): To gain an understanding of the current relevance of HIV vaccines, a historical context and science underpinning current vaccination strategies and main challenges within the field of vaccine research and development.
Learning outcomes: Participants should have a broad overview of the principles underpinning HIV vaccine design and the status of the field as well as an appreciation of challenges faced by those designing future clinical trials in light of recent developments.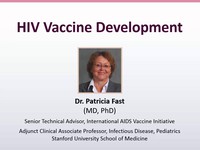 Dr. Patricia Fast – Stanford University School of Medicine, USA
46 min
Pamela Bjorkman | Talks at Google
59 min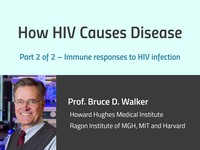 How HIV causes disease 2: immune responses to HIV infection
Prof. Bruce Walker – Ragon Institute of MGH, MIT and Harvard, USA
43 min
VRC01 antibody prevention of HIV
Lawrence Corey, Fred Hutchinson Cancer Research Center, USA
13 min
HIV vaccine approach succeeds in first clinical trial
Bill Schief – Scripps Research, USA
7 min
Future design approaches for HIV vaccine efficacy trials
R4P 2021
56 min