Content: Genomic Epidemiology
Date: 27 September 2021. This event has now closed
Duration: (live and pre-recorded session): 7 hours (morning session: 9am to 12pm, afternoon session: 1pm to 4pm)
Structure: Pre-recorded material and a live session. Participants will use the links below to access the pre-recorded content which will be viewed within an allocated time. Participants will then regroup to discuss the course content in a breakout room.
Brief description: The pre-recorded lectures will discuss key topics in genetic association studies, imputation, replication, meta-analysis and causal inference. Participants will be required to familiarise themselves with the pre-recorded content and regroup to discuss the content of the pre-recorded course materials in the live session.
Who should attend: Individuals interested, involved in (or planning) genetic association studies, genotype imputation, polygenic risk scoring and Mendelian randomisation studies.
Objective(s): Introduce key concepts in the design of the statistical association between the genetic variant and disease; the idea of genotype imputation for genome-wide association studies (GWAS); how genetic associations are confirmed in further studies with the concept of combining multiple GWAS into a single summary result; how we can use polygenic risk scores to stratify individuals according to their risk of disease; and the idea of using variation in genes to examine the causal effect of a modifiable exposure on disease.
Learning outcomes: Participants will be able to describe different concepts in genomic epidemiology including genetic association studies, polygenic risk scoring and Mendelian randomisation studies.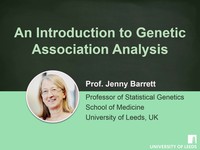 An introduction to genetic association analysis
Prof. Jenny Barrett – University of Leeds, UK
39 min
Imputation in genome-wide association analysis
Prof. Jonathan Marchini – University of Oxford, UK
33 min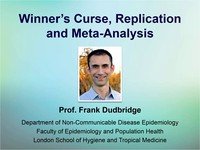 Winner's curse, replication and meta-analysis
Prof. Frank Dudbridge – University of Leicester, UK
38 min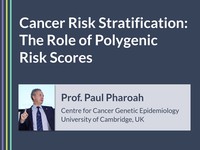 Cancer risk stratification: the role of polygenic risk scores
Prof. Paul Pharoah – University of Cambridge, UK
27 min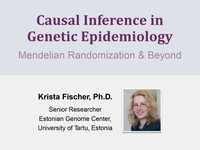 Causal inference in genetic epidemiology: Mendelian randomization and beyond
Prof. Krista Fischer – Tartu University, Estonia
42 min